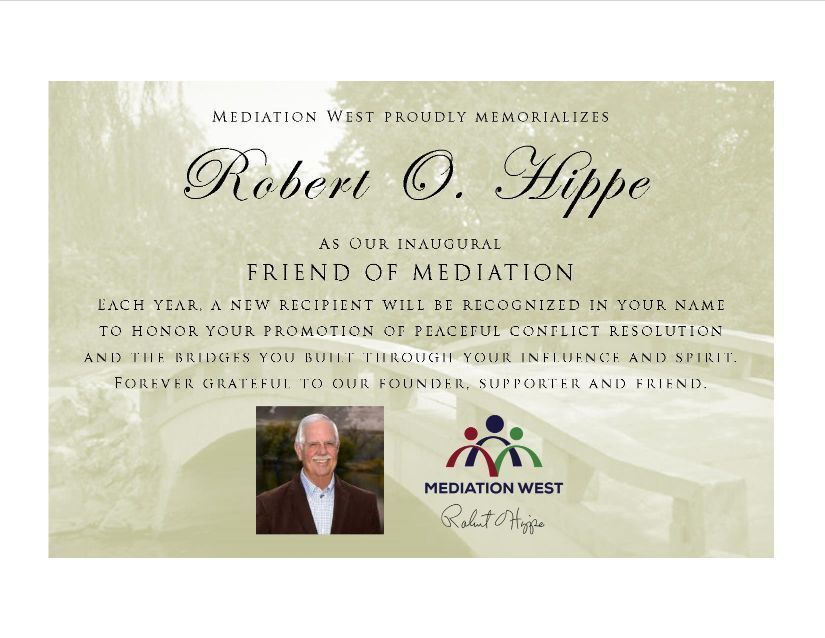 It's clear that Judge Robert O. Hippe recognized the validity of mediation long before it became an accepted avenue for seeking justice. Judge Hippe was an original incorporating member of the Panhandle Mediation Center (the Original name for Mediation West) in September 1991 and he continued to be active and supportive of mediation while on the bench and after his retirement in 2007. During his nearly 30-year active involvement with the center, Judge Hippe served as the Original Board Secretary and was serving as the Board's Secretary/Treasurer at the time of his death, while making countless contributions in between. Judge Hippe's commitment to mediation, and to the center, helped to acclimate the judiciary and stakeholders to the world of mediation during the implementation of the 1991 Dispute Resolution Act, the 2007 Parenting Act and throughout the challenges and triumphs that presented themselves over the years. 
Without his involvement as a highly respected District Court Judge, the idea of mediation would have been nearly impossible to integrate in Western Nebraska and there would have been very little, if any, participation from area attorneys in the mediation process. As attorney William Madelung put it, "Judge Hippe sold something I didn't think could be sold to the Bar." 
Through his years on the bench, Judge Hippe said his goal was always to advance the rule of law and achieve excellence in the administration of justice. "It's all about resolving disputes in a just way," he said in a 2007 retirement interview, touting mediation as the way to resolve disputes justly as an alternative to relying on the Courts and their potentially overcrowded calendars. 
Becca Tompkins, Board President at the time of his passing said, "His tenure on the board is absolutely priceless. He has been able to guide us on decisions we make today, understanding the past and why things were done." She also appreciated having the point of view from someone with a legal background on the board. Beyond his institutional knowledge, his voice has afforded stability over the years.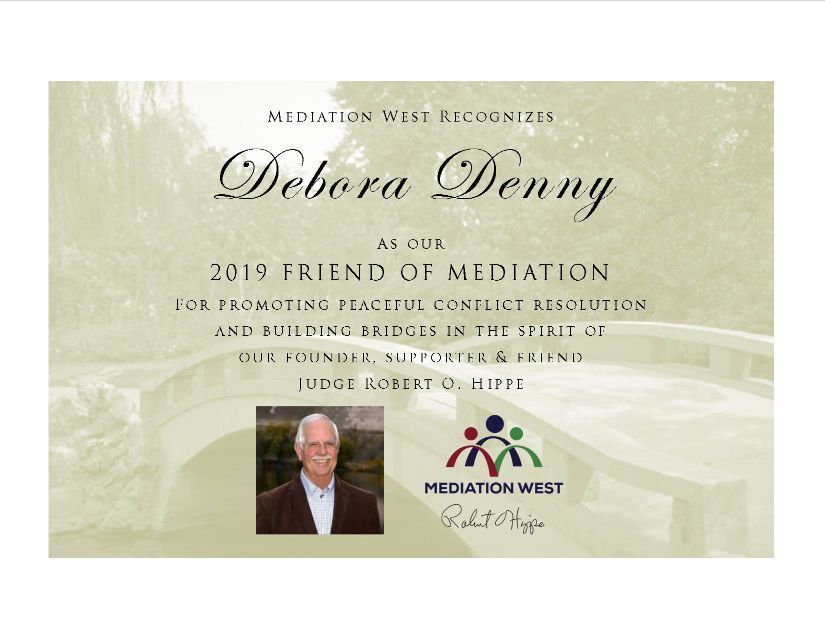 Debora Denny, J.D., long-time Director of the Office of Dispute Resolution (ODR), was honored with the Nebraska Mediation Association's (NMA) Friend of Mediation Award at their annual conference in 2018. In 2019, Mediation West bestowed its Robert O. Hippe Friend of Mediation Award.
Debora's leadership in her role as Director of ODR was informed by her years as a director of a rural mediation center. Her understanding of the challenges we face in delivering dispute prevention and resolution services in sparsely populated areas has been a great blessing to our center.
Debora dedicated nearly 30 years of her career to mediation. Drawing on her love for indigenous peoples, Debora has worked to incorporate a restorative approach to alternative dispute resolution that honors those native traditions and attempts to heal the separation of Person from Spirit and from Community that is so prevalent in our western retributive system.
Debora's leadership in standing up for funding and statutory protection has given us some of the most robust and well-thought-out laws and regulations in the country; and, serves to protect Nebraska's unique system of quasi-governmental community mediation centers as stand-alone nonprofits with approval from the Supreme Court's Office of Dispute Resolution. Debora was involved with several significant pieces of legislation in Nebraska, including the Dispute Resolution Act, the Uniform Mediation Act, the Parenting Act, and the Restorative Justice Act. She has also helped to expand our Court Services Contract for child welfare and juvenile justice conferencing and has tirelessly worked to expand our relationship and the menu of services with Nebraska State Probation.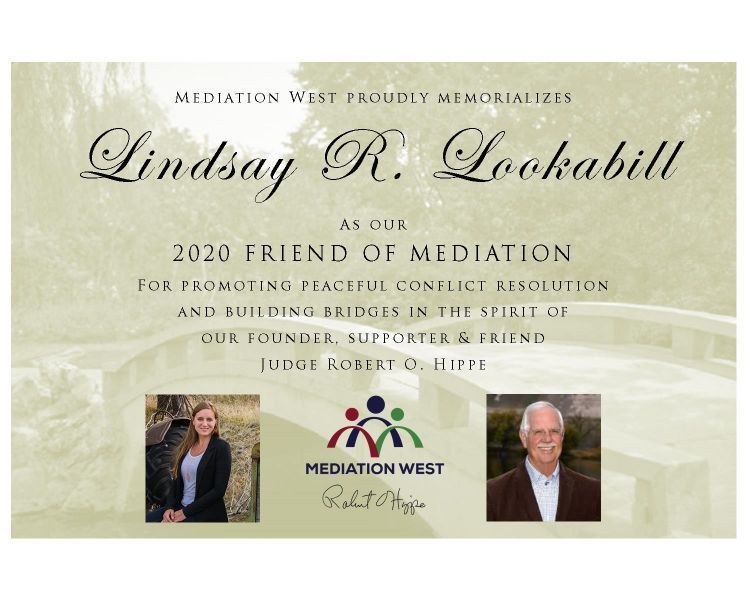 Lindsay Lookabill was born and raised in Scottsbluff. After graduating law school, Lindsay returned to Scottsbluff to practice law with her father. Lindsay practiced law in several areas, but had a love for children and was frequently appointed by area judges to serve as GAL (Guardian Ad Litem: an attorney that represents a child's best interests) for children involved in the child welfare system. She also served on the board of CASA (Court Appointed Special Advocates: a non-profit that supports children involved in the court system through specially trained volunteers), the Foster Care Review Board (an independent state agency responsible for overseeing children in out-of-home care), and the Golden Halo Foundation (an organization that provides financial assistance to children with medical conditions that require specialized care).
Lindsay was often assigned to cases referred for mediation services. She was a strong advocate for the children and clients she represented. Mediation West Executive Director Charles Lieske described her as an attorney with incredible integrity. "Whatever she asked for, you knew she was doing it because she believed it was in the best interest of her clients. She didn't play games and you didn't have to try and figure out what her angle or her endgame was. You knew she saw it the way she was presenting it."
Shortly before the traffic accident that claimed her life at the young age of 36, Charles had a conversation with Lindsay while waiting for parties to arrive before a court-ordered process. "I asked her if she thought she'd ever like to be a judge," Charles recalled. "She said that she would. She was drawn to the county court and knowing the types of child welfare and juvenile justice cases that would have come before her, I have no doubt she would have done an excellent job. She knew the system, the players, and the local resources. With her knowledge and integrity, she would have made an excellent addition to the bench," he said.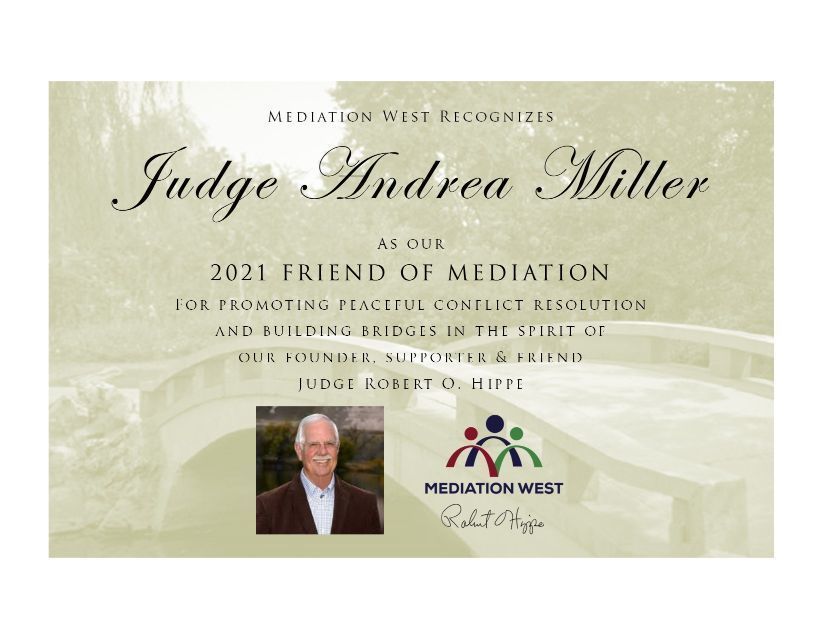 Since being confirmed to the bench, but especially over the past year, Judge Andrea Miller has been creative and thoughtful with her referrals to mediation. Judge Miller has referred families in distress and criminal cases with community consequences.
Conflict prevention and education are two of the missions of Mediation West. Judge Miller's support of the Parent Education Program provides a resource for parents to learn about the developmental stages of their children and assess the stage of their relationship as parents. Some parents take this information to heart and consider it when developing plans for their families. Our mediation work with families referred by Judge Miller has allowed us to identify past practices that have escalated conflict; in many instances, they have been able to develop plans for future interactions with each other that deescalate situations.
Conflict resolution is another of our missions. Perhaps the case with the largest impact this year was a referral for a traffic accident that left a young community member severely injured. The family of the victim and the community were feeling let down by the constraints of the retributive justice system, and the offender and his family were experiencing persecution and hardship. By utilizing Victim Impact Mediation through Mediation West, the families were able to heal through a restorative process that allowed for necessary things to be said and heard, allowing for burdens to be lifted from both sides. The understanding and forgiveness that came from the process put both families on track for a more unburdened future and offers the opportunity for community healing as well.  
Judge Miller has shown a valuable ability to discern which cases before her have the potential to be served better through restorative practices and mediation. In recognition of her leadership from the bench, we are pleased to offer this recognition.